No backyard BBQ gathering is complete without a selection of mouth-watering sauces. But, anyone who's ever hosted such an event knows how quickly your serving table can descend into chaotic clutter. Enter the BBQ sauce caddy – a simple yet effective solution for your saucy dilemmas.
This article will delve into the practicalities and aesthetic benefits of using a BBQ sauce caddy, showing you how it can transform your BBQ experience into a smooth, stylish, and mess-free affair.
What Features To Look for When Choosing A BBQ Sauce Caddy
When searching for your BBQ sauce caddy, keep in mind the following important features.
Durable Material
The best BBQ sauce caddy is fashioned from high-quality, durable material, like stainless steel or heavy-duty plastic, that can withstand regular use and extreme weather conditions.
Multiple Compartments
An ideal caddy should have multiple compartments to hold a variety of sauces. This allows you to serve a comprehensive selection of flavors to your guests.
Portability
A BBQ sauce caddy should be lightweight and compact for easy maneuverability and storage. Some caddies even come with sturdy handles for convenient transportation.
Easy Cleaning
Post-BBQ clean-up can be daunting. Therefore, a caddy that is dishwasher-safe or has removable compartments for easy cleaning is a major plus.
Stylish Design
While functionality is key, a BBQ sauce caddy should also be aesthetically pleasing. A sleek, stylish design can add a touch of elegance to your outdoor setting, enhancing the overall BBQ experience.
Stability
A well-designed caddy will have a sturdy base to prevent tipping over. This is essential to avoid messy spills and keep your serving table neat and organized.
Remember, the best BBQ Sauce Caddy is one that aligns with your specific needs and personal style, making your BBQ experience smoother and more enjoyable.
Best BBQ Sauce Caddy Reviewed in this Article
Below, we've reviewed three popular BBQ sauce caddies that meet the criteria outlined above.
---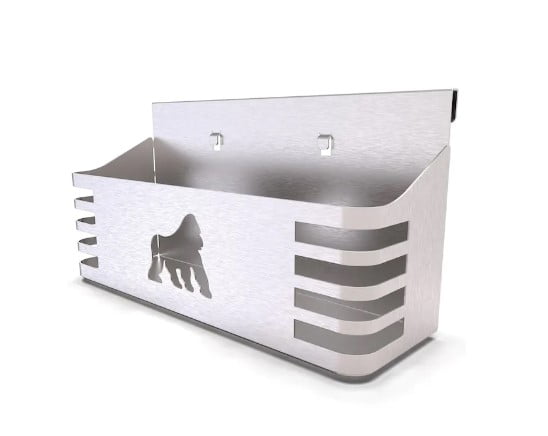 Upgrade your grill game with some awesome accessories! Introducing the GrillaGrills Sauce & Rub Caddy – the perfect addition to enhance your grilling experience. Crafted from durable 304 stainless steel, this caddy is built to last.
It's just the right size to hold all your condiments and grilling essentials while you're cooking up a storm.
For Silverbac and chimp users, the caddy conveniently hooks directly onto the hopper. You can place it on the front or side of your grill, depending on which model you have. As for the Grilla, it comes with built-in hooks under the side tables where the caddy hangs securely.
We understand the importance of storage when it comes to grilling. That's why our sauce caddy was thoughtfully designed to make the most of every inch of space. With this handy accessory, you'll have instant storage for everything from your favorite award-winning sauce bottles to smaller utensils.
---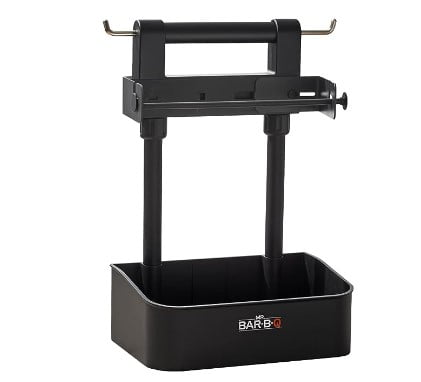 Introducing the Mr. Bar-B-Q Barbecue Caddy, the ultimate solution for all your grilling needs! With its collapsible design, this caddy easily folds down to just 4 inches for convenient storage.
Whether you're at home, boating, camping, or in an RV, this caddy is perfect for keeping your paper towels, utensils, and condiments organized and accessible right by the grill. It's not just practical for backyard entertaining, picnics, and camping, but also for beach cookouts.
No more dropping things or making multiple trips to the grill – the Mr. Bar-B-Q Barbecue Caddy allows you to carry everything you need in just one trip. The adjustable height and hooks on either side provide added convenience and flexibility.
When you're done, simply collapse it down and store it until your next grilling adventure. Upgrade your barbecue tool box with this must-have accessory and enjoy a hassle-free grilling experience!
---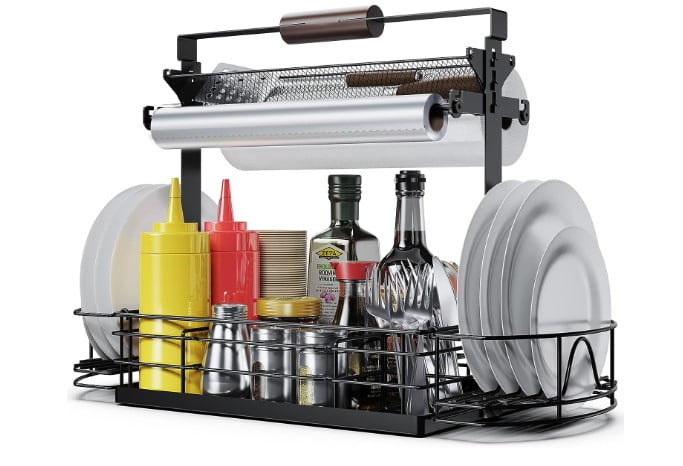 Keep your grill accessories and condiments neatly organized with this camping kitchen supply caddy. It's designed to hold condiments, plates, cutlery, napkins, paper towel rolls, grilling tools, spoons, and more.
With its newly upgraded structural design, featuring seven compartments, two plate holders, and two paper towel holders, this caddy offers flexibility and convenience.
The all-piece adjustable design allows for individual removal of each piece, accommodating items of various sizes. Say goodbye to the hassle of running back and forth during outdoor barbecues – our grill caddy is easy to carry with its comfortable wooden handle.
Enjoy effortless portability and save time as you effortlessly move between the grill and the kitchen.
---
Types of BBQ Sauce Caddy
BBQ sauce caddies come in various types to suit different needs and preferences. Let's look at some popular options:
Tiered BBQ Sauce Caddy
This type of caddy features multiple tiers, providing ample space for a range of sauces. Its vertical design optimizes table space, making it perfect for small gatherings.
Rotating BBQ Sauce Caddy
A rotating caddy allows for easy access to all sauces, especially in a large gathering. It usually has a spin base, enabling your guests to easily reach their favorite sauce without having to move around the table.
BBQ Sauce Caddy with Lid
For outdoor BBQ events, a caddy with a lid can be an ideal choice. It helps protect your sauces from insects and dust, ensuring their freshness throughout the event.
BBQ Sauce and Tool Caddy
This dual-purpose caddy not only holds your sauces but also has slots for BBQ tools like tongs and spatulas. It's a great way to keep everything you need within arm's reach.
Each type of BBQ Sauce Caddy has its unique advantages, so choose one that complements your BBQ style and needs.
Common Questions About the BBQ Sauce Caddy
What are the benefits of having a BBQ Sauce Caddy?
Having a BBQ sauce caddy offers several benefits. It helps organize sauces neatly and makes them easily accessible for guests
Reduces clutter and mess on your serving table
Adds an elegant touch to your outdoor setting.
A BBQ Sauce Caddy is an invaluable accessory for any serious griller. It's a great way to keep your sauces organized, neat and protected during outdoor events.
Can I Reuse My BBQ Sauce Caddy?
Yes. A well-crafted and durable caddy can be reused multiple times, provided that you take proper care of it by cleaning it regularly. It's also important to store your caddy in a safe place to avoid damage.
How Much Does a BBQ Sauce Caddy Cost?
The cost of a BBQ sauce caddy can vary depending on the material, size, and features. Generally speaking, you can expect to pay anywhere from $20-$80 for a quality caddy.
Video How to keep your OUTDOOR COOKWARE organized#BBQCaddy
Watch the video and see how to properly organize your outdoor cookware, grilling tools and BBQ sauces with a BBQ caddy. Keeping all of your grilling essentials in one place can help you save time on prep and cleanup.
Final Thoughts
In conclusion, investing in a BBQ Sauce Caddy is a small step that can greatly enhance your grilling experience. It's not just about organizing sauces in a clean and accessible manner; it's about adding style and convenience to your BBQ gatherings.
Whether you opt for a tiered, rotating, or dual-purpose caddy, remember to prioritize durability, user-friendly design, and easy maintenance. With a quality BBQ Sauce Caddy, you can enjoy a clutter-free, stylish, and efficient BBQ experience every time. Let the BBQ season begin!