Ceramic grill grates are popular because they hold heat exceptionally well and are more resilient than their steel or cast iron counterparts. But maintaining their pristine condition requires regular cleaning. If you've been scratching your head over how to clean a ceramic grill grate, you've come to the right place.
This guide will provide step by step instructions, ensuring your grilling equipment stays in optimum condition for those delicious BBQ meals. Remember, the secret to a great BBQ lies not just in your cooking skills, but also in the cleanliness of your grill!
How to Clean a Ceramic Grill Grate Quick Guide
When you become a ceramic grill owner, learning how to clean a ceramic grill grate is a must! In this section, we'll briefly mention the steps you need to follow to keep your grate clean and ready for next time. For more details continue below.
Gather your cleaning supplies
Remove the grates
Brush the grates
Soak the grates
Scrub the grates
Dry the grates
Regular maintenance
How to Clean a Ceramic Grill Grate Steps
Repeat these steps as needed in order to learn how to clean a ceramic grill grate and ready for your next BBQ.
Step 1: Gather Your Cleaning Supplies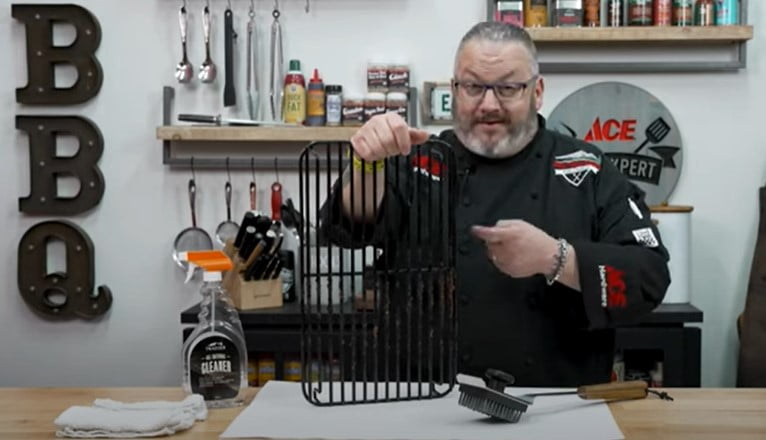 To clean ceramic grill grates, you will need the following items: a grill brush, a bucket, warm water, mild dish soap, a sponge, and a towel. Avoid using metal brushes as they can damage the ceramic surface.
For a thorough cleaning of your ceramic grill grates, consider purchasing a specially formulated ceramic grill cleaner. Follow the instructions provided on the package and use a soft-bristled brush to prevent any surface scratching.
These cleaners are highly effective in removing stubborn food debris and reduce the need for excessive manual effort.
Step 2: Remove the Grates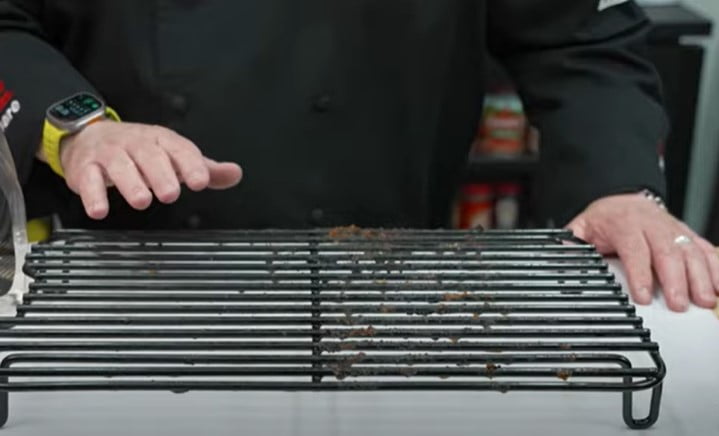 Turn off your grill and wait until it cools down. Once it's safe to touch, remove the ceramic grates carefully.
Step 3: Brush the Grates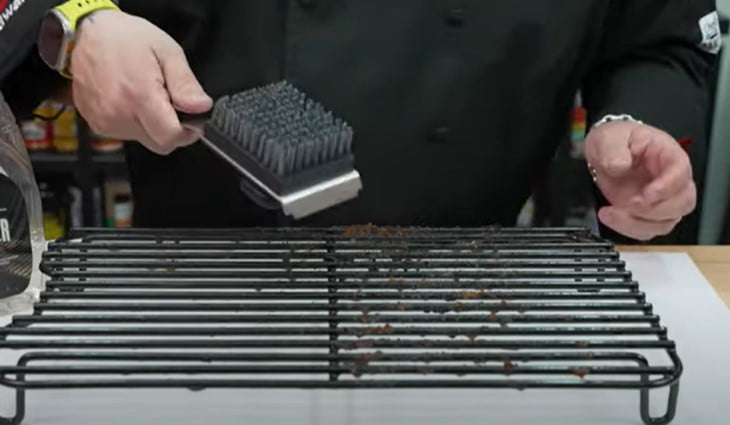 Use your grill brush to scrub off the loose debris from the grates. Make sure to brush both sides.
Step 4: Soak the Grates
Fill the bucket with warm water and add a few drops of dish soap. Place the grates in the soapy water and let them soak for about 15-30 minutes to loosen any stubborn residue.
You can effectively clean your ceramic grill grates by soaking them. Start by scrubbing the grates with a tin foil ball to remove any debris.
Next, prepare a baking soda solution using ½ cup of baking soda and ¼ cup of warm water. Apply this solution using a small paintbrush or toothbrush. Let it sit for 20 minutes, then gently clean the surface with a soft-bristled grill brush.
Finally, rinse the grates with a wet paper towel. If possible, you can also soak the grates in the baking soda solution for optimal results.
Step 5: Scrub the Grates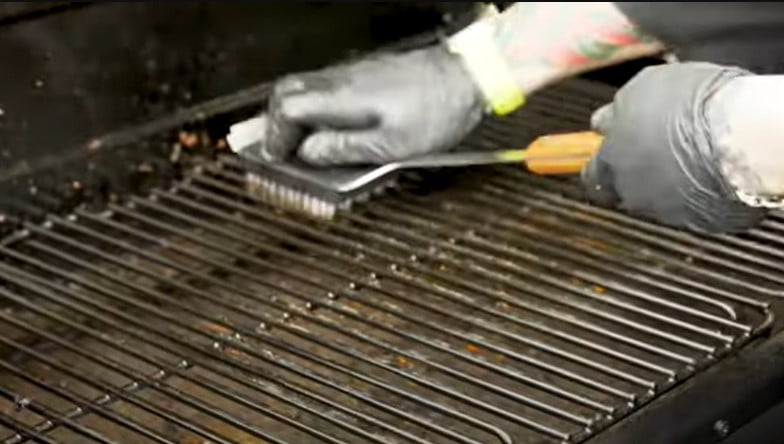 After soaking, scrub the grates with a sponge. Then, rinse under warm water to remove soap residue.
Although a stiff grill brush isn't suitable for cleaning ceramic grill grates, you can still opt for the scrubbing method. Simply switch to a soft-bristled brush.
Heat your grill to a medium-hot temperature and gently scrub the grates diagonally to remove any food residue and debris.
Afterward, wipe the grates down with a wet paper towel and allow them to air dry. This approach ensures effective cleaning while maintaining the integrity of your ceramic grill grates.
Step 6: Dry the Grates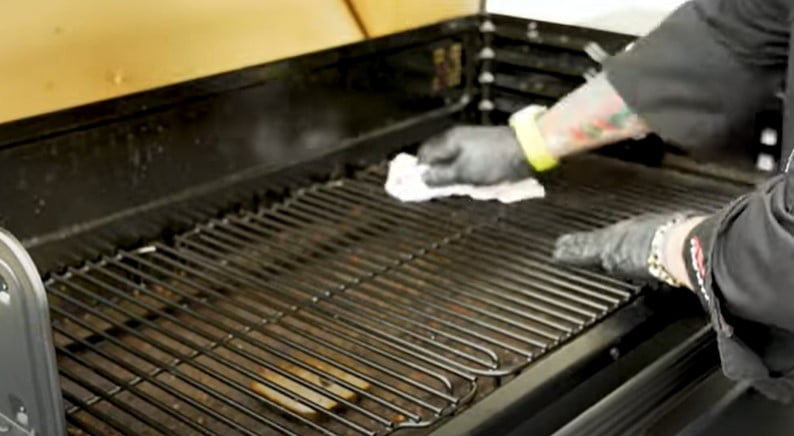 Dry the grates thoroughly using a towel to prevent rust. Do not place them back on the grill until they are completely dry.
Step 7: Regular Maintenance
Develop a regular cleaning routine to prolong the life and efficiency of your ceramic grill grates. Cleaning after each use is recommended because it will prevent the buildup of hard-to-remove food particles and grease.
Common Questions About How to Clean a Ceramic Grill Grate
Can I use steel brushes on a ceramic grill grate?
No. Steel brushes can scratch and damage the ceramic surface, so it is best to avoid them. Instead, opt for a nylon-bristled brush.
How often should I clean my ceramic grill grates?
It is recommended to clean after each use to prevent the buildup of food and grease. This will ensure your grill grates last longer and stay in top condition for all your BBQ meals. However, if you do not use your grill frequently, then a monthly cleaning should suffice.
What can I do to maintain my ceramic grates?
Regular cleaning is the best way to maintain ceramic grates. But you should also make sure they are completely dry before storing them and cover them with a layer of cooking oil or vegetable spray to create a protective barrier. This will keep them from rusting and extend their lifespan.
It is not recommended to store ceramic grill grates in the oven. The intense heat of an oven can cause the ceramic surface to crack or break. It's best to store them in a cool and dry place.
Is there any alternative method of maintaining ceramic grill grates?
You can also use a degreaser to clean the grates instead of soap and water. Simply spray the degreaser on the grates and let sit for a few minutes before rinsing with warm water.
In addition, some people like to use the ceramic cleaner as it is specifically designed to clean and protect ceramic surfaces while removing tough stains. Be sure to follow label directions when using any cleaning products.
Video Big Green Egg Clean Burn – How to Deep Clean the Ceramic Components of Your Big Green Egg
Watch the video to find out how to deep clean the ceramic components of your Big Green Egg, including the fire bowl, fire ring, and ceramic cooking grates. This is a great way to keep your grill in optimal condition for your next BBQ!
Final Thoughts
In conclusion, proper cleaning and maintenance of your ceramic grill grates are crucial to keep your BBQ equipment in its best form and ensure the success of your grilling adventures.
With the steps outlined in this guide, cleaning your ceramic grill grates should be a breeze. By adopting these practices, you will not only achieve a superior grilling experience but also significantly extend the life of your ceramic grill grates.