BBQ rubs are the secret weapon in your grilling arsenal, responsible for infusing your meats with explosive flavor and transforming your backyard barbecue into a gourmet feast. A perfect blend of spices, herbs, and sweeteners, these rubs can elevate simple cuts of meat into a culinary masterpiece.
This guide is designed to help you explore the art of making your own BBQ rubs, offering you creative freedom and control over your grilling experience. So, let's dive into the world of BBQ rubs and unleash a universe of flavors at your fingertips.
How to Make BBQ Rubs Quick Guide
If you've been wondering how to make bbq rubs, in this section we briefly mention a few different ways of making BBQ rubs. For more details continue below.
Remember, the beauty of making your own BBQ rub is the ability to tweak and experiment until you find your perfect blend.
Basic BBQ Rub
Smoky Rub
Double Pepper Barbe
Davis Dry Rub
Spicy Southwestern Rub
Coriander-Bay Spice Rub
How to Make BBQ Rubs Recipes
Making your own BBQ rubs is an art, learn what it takes to make your favorite recipes and the steps to ensure you stay on track.
Basic BBQ Rub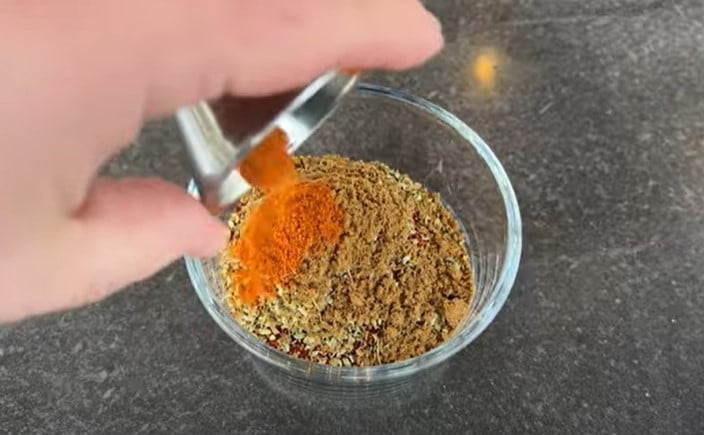 Introducing the star of the show: the Basic BBQ Rub. This Texas-inspired rub boasts a captivating blend of flavors, courtesy of cumin seeds, yellow mustard seeds, and coriander seeds (did you know they grow into cilantro?).
These seed sensations work harmoniously with warm spices, turbinado sugar, dark brown sugar, and dried oregano to create a truly exceptional BBQ rub.
Prepare for an explosion of taste with 1½ teaspoons each of celery seeds, cumin seeds, yellow mustard seeds, and coriander seeds.
Combine these with ¾ cup of turbinado sugar, ¾ cup of dark brown sugar, and ½ cup of paprika for a perfect balance of sweetness and smokiness.
Enhance the flavors with 3 tablespoons of fine sea salt or kosher salt, 4 teaspoons each of onion powder and garlic powder, and 1 tablespoon of chili powder.
Finally, add 1 ½ teaspoons each of dried oregano and ground black pepper for a touch of herbal and peppery notes.
Smoky Rub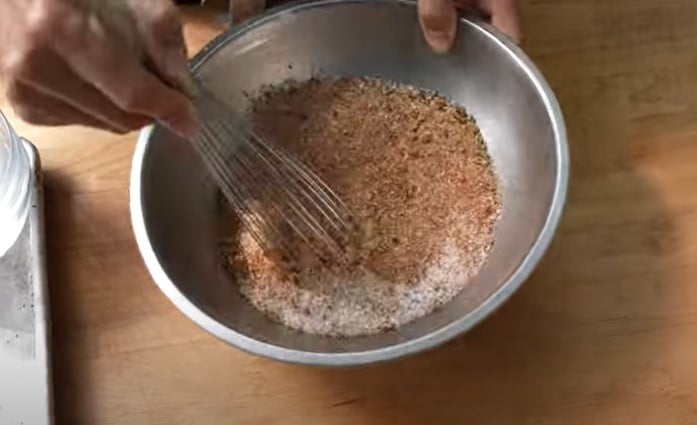 Introducing the Smoky Rub: a BBQ spice blend inspired by the rich flavor of smoked paprika. This Spanish spice staple is crafted by smoking and drying peppers over oak wood, resulting in a truly distinctive taste.
Customizable in terms of heat level, this unique blend also incorporates notes of garlic, onion, and ginger. Experience the perfect balance of flavors by selecting from mild, medium, or hot smoked paprika. Here's the recipe:
1 tablespoon of smoked paprika
1 tablespoon of onion powder
1½ teaspoons of garlic powder
1 teaspoon of salt
1 teaspoon of dry mustard
1 teaspoon of ground ginger
Indulge in the exquisite taste of this carefully crafted spice rub for your next BBQ adventure!
Double Pepper Barbecue Rub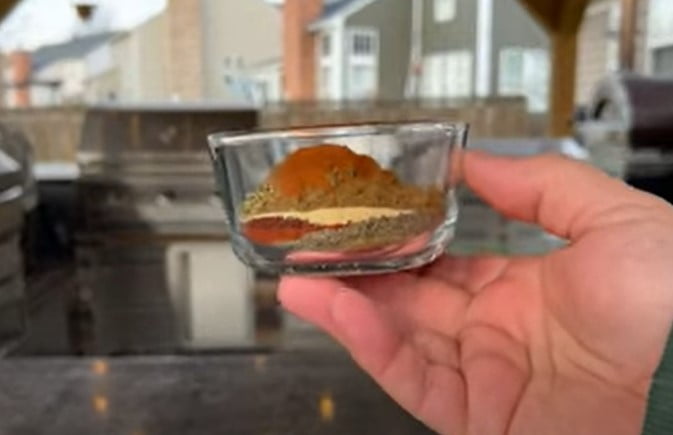 Enhance the flavor of your meat, whether it's brisket, ribs, chicken, or pork shoulder, with our Double Pepper Barbecue Rub. After mopping it with a vinegar-based BBQ sauce, let it smoke to perfection.
Once cooked, channel your inner Tennessee pitmaster and sprinkle this authentic Memphis BBQ rub on top. The combination of brown sugar, paprika, cumin, cayenne pepper, and more will tantalize your taste buds and take center stage in every bite. Here's the recipe:
¼ cup paprika
1 tablespoon ground cumin
1 tablespoon packed brown sugar
1 tablespoon chili powder
1 tablespoon ground black pepper
1½ teaspoons cayenne pepper
¼ teaspoon ground cloves
Davis Dry Rub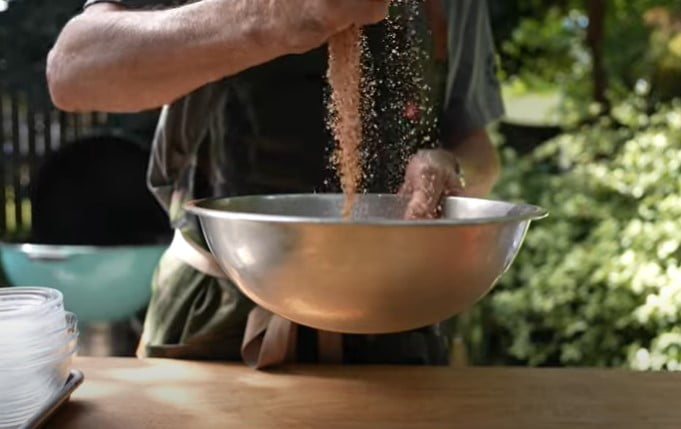 Introducing the Davis Dry Rub – a versatile spice blend that's perfect for big-batch cooking. This sweet and spicy grilling rub adds a burst of flavor to BBQ chicken or a hearty brisket.
With a blend of paprika, cumin, chili powder, and more, this rub will elevate your dishes. Plus, the leftovers can be stored for up to 6 months, ensuring you'll have it on hand whenever you need it. Give your meals a delicious twist with the Davis Dry Rub!
Spicy Southwestern Rub:
Uncertain if your fellow diners can handle the heat? This homemade BBQ rub recipe showcases a delightful blend of warm and smoky spices, highlighted by cumin and paprika. A dash of cayenne and a dollop of ground pasilla or ancho pepper provide just the right amount of spice to harmonize with the brown sugar.
Ingredients:
1 tablespoon of ground ancho or pasilla pepper
1 tablespoon of paprika
1½ teaspoons of packed brown sugar
1½ teaspoons of ground cumin
1 teaspoon of garlic powder
1 teaspoon of ground black pepper
1 teaspoon of dried thyme
½ teaspoon of salt
¼ teaspoon of cayenne pepper
Coriander-Bay Spice Rub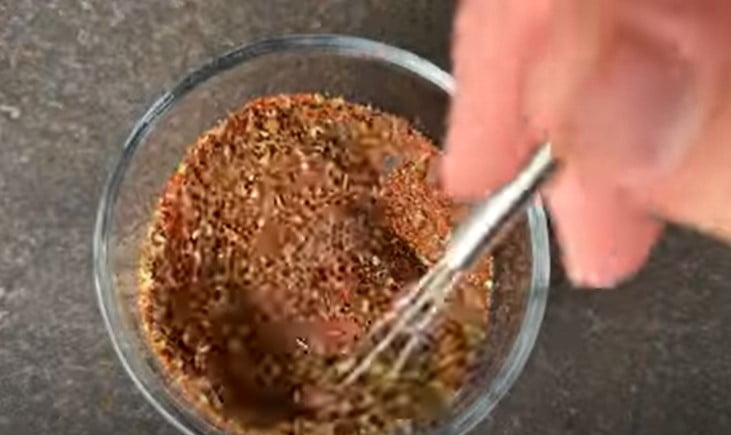 While cinnamon, cloves, and ginger are often associated with pumpkin pie, their unique flavors elevate this delightful BBQ rub recipe. The sweet elements are perfectly balanced with savory notes of cumin, coriander, thyme, and bay leaf.
Ingredients:
1 tablespoon of kosher salt
1 tablespoon of packed brown sugar
½ teaspoon of freshly ground black pepper
½ teaspoon of ground coriander
½ teaspoon of ground cumin
½ teaspoon of ground cinnamon
½ teaspoon of dried thyme, crushed
¼ teaspoon of ground cloves
¼ teaspoon of ground cardamom
¼ teaspoon of ground ginger
¼ teaspoon of ground nutmeg
1 small bay leaf, finely crumbled
Enjoy the perfect blend of flavors with this exquisite Coriander-Bay Spice Rub!
Types of BBQ Rubs
BBQ rubs generally fall into four primary categories: sweet, spicy, savory, and herbed.
Sweet Rubs
These rubs primarily rely on ingredients like brown sugar, molasses, or honey powder. They create a delicious caramelization on the surface of the meat when it's grilled.
Spicy Rubs
These blends are for those who love a good kick. They often include chili powder, cayenne pepper, crushed red pepper flakes, or even hot paprika. The heat level can be adjusted according to personal preference.
Savory Rubs
These rubs focus on rich and pungent flavors, using ingredients such as garlic powder, onion powder, mustard powder, and various salts. They are versatile and work well with virtually any kind of meat.
Herbed Rubs
These blends leverage the flavors of dried herbs such as oregano, thyme, rosemary, and bay leaf. These rubs often lend a Mediterranean or Provencal vibe to your BBQ.
Common Questions About How to Make BBQ Rubs
What is a BBQ rub used for?
A BBQ rub is used to add flavor and texture to grilled meats. The ingredients typically include a combination of herbs, spices, sugars, and salts. The rub is applied to the surface of the meat prior to cooking, and it helps create a flavorful crust on the outside while locking in moisture.
Is BBQ rub better than sauce?
It really depends on your preference. Some people prefer a heavier sauce while others prefer a lighter seasoning blend such as BBQ rubs. Using both together gives you the best of both worlds—a layer of flavor from the rub and an extra punch of flavor from the sauce.
How long should I leave a BBQ rub on?
It's usually recommended to apply your BBQ rub at least 30 minutes before cooking, but you can leave it overnight for best results. The key is to give the spices enough time to penetrate and flavor the meat.
What are some tips for how to make BBQ rubs?
Identify Your Base Spices: Every BBQ rub starts with base spices, typically salt and pepper. Decide on your ratio; a good starting point is equal parts of salt and black pepper.
Choose Your Sugar: Brown sugar is a common choice for BBQ rubs due to its deep, molasses-like flavor. However, you can explore other options like white sugar, honey powder, or even maple sugar.
Select Additional Spices and Herbs: This is where you can get creative. Paprika, chili powder, garlic powder, onion powder, cayenne pepper, and dried herbs like oregano or thyme are all great additions.
Mix Your Ingredients: Combine all your chosen ingredients in a bowl. Stir until you have a consistent mixture without any clumps.
Taste and Adjust: This is your secret mix, so make sure it tastes amazing! Adjust your spices and sweeteners as necessary until you're in love with the flavor.
Apply Your Rub: Now, it's time to rub your spice mix into your meat. Make sure to cover all sides and allow it to rest for at least an hour, enabling the flavors to penetrate into the meat.
Video How to Make Barbecue Rubs
Still struggling to make the perfect BBQ rub? We've got your back! Check out this YouTube video on how to make barbecue rubs from scratch. So grab your ingredients and get ready for a delicious grilling experience.
Final Thoughts
Mastering the art of making BBQ rubs can truly take your grilling game to the next level. The key is to strike a balance between your base spices, sweeteners, and additional herbs and spices. Remember to let your personal preference guide your choices, as your homemade rubs should ultimately reflect the flavors you love.
With a little creativity and experimentation, you'll soon have a collection of customized BBQ rubs that even professional pitmasters would envy. Keep grilling, keep exploring, and most importantly, keep enjoying the delicious journey of BBQ.